Iran and India share close ties in terms of their languages, cultures and ethnicities and these commonalities have throughout the history led to the formation of various, extensive links and relations between them. Over the recent years, following the implementation of the JCPOA and lifting sanctions against Iran, hopes have increased for economic and touristic relations to extend with more dynamic nature added thereto. To know more of the bilateral ties and the coming perspectives, we conducted an interview with India's Ambassador to Iran which is as follows.
AVA Diplomatic's Exclusive Interview with Saurabh Kumar, India's Ambassador to Iran
What potentials of cooperation do Iran and India have in the international context?
We have a good potential for cooperation between India and Iran, both in the bilateral, as well as, multilateral context. We have a convergence on a number of issues in the international fora. We both are members of Non-Aligned Movement. We both are developing countries, and on developmental issues, there's a lot of commonality in our positions. So we have good cooperation in the international fora. Similarly in the bilateral areas, when our Prime Minister was here in May past year, a number of important initiatives were taken including related to Chabahar port, hydrocarbon sector, trade and transit, connectivity, science and technology, and we have worked on a good programme of implementation. What the countries are now focusing on is the implementation of these understandings which we reached during Prime Minister's visit.
How different is the trade volume between Iran and India in 2016 compared to last year?
We had a good trade volume of fifteen billion US dollars which came down to thirteen billion and further reduced to nine billion dollars. A lot of this shrinkage is on account of lower value of crude oil, because crude constitutes a major component of India-Iran bilateral trade. But we have also seen that in the non-crude sector, there has been some marginal reduction. We are now buying more of Iranian crude oil since January. We also look forward to trade in the non-crude sector increasing. There was a business delegation which had accompanied Foreign Minister Dr. Zarif to India very recently and the President of the Iran Chamber of Commerce was reported as having suggested that thirty billion dollars should be the target for India-Iran bilateral trade. I think this is a very welcome development; we should put high targets and then try to achieve these.
What agreements have been inked between the two countries in the case of monetary and banking facilities?
When our Prime Minister was here, during discussions, it was decided that banking is an issue which needs attention on the part of both sides, and subsequently, we had a delegation from our Ministry of Finance consisting of our central bank and some of the other prominent Indian banks which had discussions with Iranian Ministry of Finance and Central Bank. Some progress was made. We were able to reach better understanding between the two sides. While banking area has definitely made progress since January this year, I think a lot more needs to be done and both sides are working on this front.
What measures have been thought up as for services such as USANCE to be offered to Iranian importers by Indian banks?
This is more of a technical matter. You see what happened when the sanction regime was put in place is that India and Iran had very intensive discussions and we worked out an arrangement whereby 45 percent of the crude payments were to be made in Indian rupees. This money was utilized for bilateral trade. Now with the banking channels having opened up for crude trade, we are paying in hard currency and this money is going to the Iranian side. So the rupee account of Iranian side with bank in India which was used for bilateral trade is shrinking. I think the challenge before us and for the Iranian banks is that Indian and Iranian banks have to establish a correspondence banking relationship through European banks which are doing Iran transactions. Most of the Indian banks have correspondence banking relationship in Euros with big European banks. As we know, these big European banks are still not undertaking Iran-related transactions. So the challenge for both Iranian banks and Indian banks is to work out correspondence banking relationships so that these LC, which you have referred to, can be issued and accepted in a smoother manner.
How much of India's demand for crude oil is presently supplied by Iran?
We are buying a lot more crude oil from Iran since last January. I do not have the latest figures but for the month of September, I was reading that imports from Iran have gone up very significantly and we are looking forward to our oil companies buying more crude oil from Iran.
Has India fully reimbursed its oil debts to Iran?
Yes. In fact all of the government oil companies have paid what was due to the Iranian side. Very little amount remains. As soon as we sign an understanding between our companies and your companies on issues like interest rate and exchange rate, this matter will be settled. In fact, I should point out that we have had discussions on this in the past, understandings have been reached and we are just waiting for these understandings to be put down in writing. There is an Indian private company which has over two billion dollars and it is in touch with the Iranian authorities and they are working out the schedule for payment.
Where does Chabahar stand in the economic gives and takes between Iran and India?
Chabahar is very significant. It is a symbol of economic corporation between India and Iran. During Prime Minister's visit, Chabahar Port Contract was signed and both sides have been working since then on various technical aspects such as fixing of specifications of equipments which need to be installed at the port, undertaking tenders and other related processes. So these steps are being taken. But answering your question, it is a very important component of India-Iran bilateral cooperation.
What level is the process of India's investment in civil projects of Chabahar at?
We would be investing 85 million dollars in equipment which would be provided in phase 1 of Chabahar port. India would also be extending a line of credit of one fifty million US dollars for phase 1 of Chabahar port. Separately, we have extended the line of credit of two fifty million US dollars for supply of steel rails to Iran.
What consultations have been carried out between the two countries for the purpose of railroad development?
We had very good discussions in the rail-road sector before the Prime Minister's visit and we have been in touch following that also. During Prime Minister's visit Indian company IRCON signed a Memorandum of Understanding with the CDTIC for development of Chabahar-Zahedan railway. Further discussion need to take place on this. We are also expecting a team from IRCON to come to Iran and visit Chabahar and undertake further technical studies. We are also in touch with each other and with third countries on the issue of financing of Chabahar -Zahedan railway.
Are there any agreements between the two countries for jointly manufacturing city buses?
Not that I am aware of; but if there is I'd be happy.
Over the past few years, there were ongoing negotiations between Iran and India for building gas pipelines. Has the project evolved into a practical phase yet?
Let me take a step back and mention that to be have a joint working group covering the hydrocarbon sector cooperation between India and Iran. The group met in December last year and they had a full range of discussions and all aspects of our cooperation in the hydrocarbon sector was discussed. One of the important areas we are looking at is the gas field in Iran which was discovered by an Indian company and now we are looking at signing and concluding a production contract. Discussions are at an advanced stage. As far as the pipeline and transportation of gas from Iran to India is concerned, as I have mentioned elsewhere, we are ready to look at all options and all possibilities. What method would be used, would primarily depend upon techno-economic viability and feasibility, and profitability of the option, and the option which is most beneficial for the two side would be considered.
India is in great need of mineral materials such as copper and Iran can supply the demands of the Indian markets. Has there been any consultation between the two countries?
We know Iran is a very rich in mineral resources. We are collaborating with IMIDRO. But our collaboration is more in the nature of investment in Chabahar Free Zone in the aluminum sector. The possibility of copper has not yet been discussed between the two countries in significant detail.
What are the most significant non-oil products Iran exports to India?
We buy a range of petrochemicals from Iran like urea, ammonia, bitumen and other products. I would not be able to name them but petrochemicals are a major component of our import basket from Iran.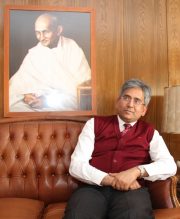 How many Iranian students are studying in India currently?
The exact number would be known to the Iranian embassy in India but my understanding is that there are four or five thousand Indian students studying there.
In what majors mainly do they study?
They study in the different areas but pharmacy is an area which is very popular. There are students who are doing medical studies, dental studies. Some of them are studying the English language. So they are in a variety of areas.
Just recently the meeting of the Joint Science and Technology of Iran and India was held in Tehran. What did the bilateral consultations cover specifically?
This is a good initiative. As I mentioned, during Prime Minister's visit, we signed a protocol on science and technology. So science and Technology Corporation meeting was an outcome of that protocol. We had very extensive and wide-ranging discussions. The Indian delegation also visited some of the technical and scientific institutes and establishments in Iran. We were very impressed by the facilities you have. The main outcome was areas in which India and Iran would cooperate; the modalities of this cooperation for example workshops, joint scientific projects; and lastly the timeframe for this cooperation. So these were the aspects which were discussed and we look forward to implementing the understandings which we reached during this meeting.
What measures have been considered to ease the issuance of visa for Iranian citizens?
There are no difficulties in issuance of visas to Iranian citizens.
Your Honor had spoken of the probability of lifting off visas between Iran and India as to extend the relations between the two countries. Is there a timeframe for that?
We look forward to this happening at an early date. This proposal is on the table and both sides have been discussing it. It is my hope that we would reach an understanding on this; the earlier, the better.
How many touristic visas are issued annually for Iranian applicants?
My consular officer would be able to give you the details. But we issue around twenty eight to thirty thousand visas per year to Iranians. By far most of them are for the purpose of tourism and then of course we have business visas, visas for students who are going to India for studies, and other kinds of visas. But a good portion of these are for tourists going to India.
Recently a joint movie of Iran-India started broadcasting in Iran. What other cultural exchanges will Iran and India have in the future?
Let me tell you what we had in the last one year. We had some of our top Indian music personalities visiting Iran. We had the most renowned flute player of India here. We had a function at the Vahdat Hall some months ago. During Prime Minister's visit, again, we had a cultural performance and we had some very eminent musicians who came from India. Apart from these two big performances which were held in the Vahdat Hall, we had several other cultural performances like sitar performance, performance of popular music, and these were held in Milad Tower. We are planning a violin performance in January next year and we would be organizing the week of Indian culture in Iran before Nowrooz holidays. So I hope we are successful with this timeframe. If not, we would have it after Nowrooz.
Have you watched "Salam Mumbai"? What do you think about it?
I have watched it. It's a story of India and Iran. You asked me about Iranian students studying in India. The movie is about an Iranian student who studies in India and his experiences out there. I think the movie reflects a reality of the relationship between the two countries. It reflects the deep people-to-people relationships between our two countries, which is not just a recent phenomenon but something which has taken place not only through the centuries but over millennia. So I think it is a movie about India-Iran relationship more than anything else.
Following the imposition of sanctions against Iran, we witnessed the halt of the joint operation of Iranian and Indian shipping lines. Is there any specific plan by the two countries' officials for reactivating these lines through a joint enterprise?
In fact I met the Managing Director of IRISL some days ago and I had a good discussion with him. He informed me that there have been contacts between the Iranian authorities and the Indian authorities to look at various possibilities. So this is a something which is under consideration both on the Iranian side as well as on the Indian side. We will have to wait and see how we are able to move ahead. There are some very difficult issues which are involved because when sanctions were put on the Irano-Hind shipping line, it faced a lot of difficulties. Both sides have now decided to see how best to resolve these problems which the shipping line faced in the period of sanctions.
What is the purpose of reopening the representative office of India's federation of chambers of commerce in Tehran? How would it affect the economic relations between the two countries?
It is not the Office of Federation of Indian Chambers of Commerce and Industry. India has two chambers. One is FICCI and the other one is CII; Confederation of Indian Industries. So CII plans to open an office. There was a delegation led by the President of CII which visited Iran early last year and it was during that visit, that CII decided that it would open its Tehran office soon. This understanding was reflected in the document which came out during the Prime Minister's visit. So we are looking forward to CII's office opening and I am very optimistic and positive about this office because this would contribute to the establishment of direct relationship between businesses of India and Iran, and would contribute to furthering our economic ties.
What potentials does India possess for restoring and renovating Iranian historical sites and monuments?
This is another area where are historic links manifest themselves. There is a lot of Persian influence in the architecture in India. This is an important area of cooperation. I have had some discussions with the authorities on this. I was happy to learn that your Embassy is pursuing some ideas in India as far as this sector is concerned, and we look forward to a more formal understanding between the two countries. We do have a cultural exchange program between India and Iran and some of the paragraphs of the program deal with this area.
This year, the INS Trikand (F51) and INS Ganga (F22) frigates arrived in Iran's First Naval Zone in Bandar Abbas. How vast is the potentials between the two countries for the expanding of military ties or holding joint military maneuvers?
As you mentioned Indian ships have been in Bandar Abbas and we have also had Iranian vessels visiting Indian ports. I think maritime cooperation is an important area of defense cooperation and we attach a lot of importance to it. When these ships were here, as is the normal practice, while they were sailing out certain exercises called the PASSEX exercises were conducted by the Indian vessels with Iranian vessels.
India is trying to increase its relations with the US. How could the election of the new US President affect the ties between the two countries?
It was for the Americans to choose their President. India-US relationship is not dependent on the electoral process in the US. We have a comprehensive and multifaceted relationship with the United States and we look forward to the relationship with the United States progressing based on mutual interests of the two countries.
Can Donald Trump unilaterally call off the JCPOA?
This is a question I should be asking you. I do not have any comment on this issue. JCPOA is an important document, it's an international agreement.
India and Vietnam have recently signed a non-military agreement of nuclear cooperation. Is there going to be a same agreement between the officials of Iran and India?
Currently there is no collaboration in this area and in the future it depends on the decision of two sides.
The Ambassador of Pakistan to Iran pointed out in his statements that if India thinks it can put Pakistan under pressure by resorting to state-terrorism in Kashmir, it is certainly wrong. How do you view this?
I would not like to engage the Pakistani ambassador through the medium of press. He has his views and also understands the credibility of the country he represents. He is doing his job. Iranian people are intelligent and distinguish between reality and propaganda. India has always maintained a consistent policy that it would like a normal state-to-state relationship with Pakistan. Of course, when terrorism including cross-border terrorism is brought to the forefront, dialogue tends to recede. Pakistan needs to give up cross-border terrorism as an instrument of state policy. We remain committed to bilateral dialogue with Pakistan.
Is there any other points regarding Iran and India relations you want to add?
I think this is one of the most extensive interviews I have given since being appointed ambassador to Iran.