Belarus is an east-European country which was formed in 1990 after the demise of the Soviet Union. The waterways of Belarus, prior to many aspects, are indicative of its history; the Dnieper enabled old-day merchants and adventurous Vikings to sail south towards the Byzantine Empire and the Dvina towards the Baltic-Sea region. The areas standing atop the two rivers made possible a connection to the Volga, which eventually led to the Caspian Sea, Iran and the Arab World. The country is three times larger than Belgium and the Netherlands and resides 160 miles away from the Baltic Sea. Almost 40% of the country's soil is covered with forests and forestry and its related products are a rich source of income from natural resources for this land. Of other natural resources, one could refer to brown coal, peat, oil shale, a bit of natural oil and gas, granite, dolomite, limestone, limestone soil, sand and clay. To learn more of the rituals and traditions as well as the memories of the spouse of the Belarussian Ambassador to Iran, we met with Mrs. Alla Lazarchik and discussed this beautiful land with its rich culture.
AVA Diplomatic's Exclusive Interview with
Mrs. Alla Lazarchik, Spouse of the Belarussian Ambassador to Iran
Interview by Mohammadreza Nazari
First and foremost in our interview, please elaborate to our readers on where you were born and how you spent your teenage and young adult years.
I was born in a small city in Belarus, named Baranavichy with a population of 200 thousand people. I spent my childhood at my parents', or as they say, on the field. We used to keep a lot of pets in our house; we had cats and dogs and I liked them so much. I was raised along with my brother and cousins and of course, my grandmother. My parents were mostly away on trips, but my grandmother was always with us.
The school wasn't that far from our house, and so, I used to go to school with my brother. I also started to learn various things such as dancing, painting, volleyball on the side. Our family had a warm prelude to events and celebrations; my mother and grandmother used to cook delicious meals and I, along with my cousins, would help them in the kitchen. Helping others with baking cookies and cakes was my favorite.
What were your games as a kid?
We had a Ping-Pong table in the yard at home, and perhaps that was why Ping-Pong was our favorite, respected sport. So that was how the other kids in the neighborhood gathered there to play. We would hold competitions among ourselves and determine awards for them. Most of the times, we played hide-and-seek or chased each other like cops; these are all team games that require coordination and comprehension. Our houses were not the only playfields we had, and sometimes, we would go to our schoolyard, which was very close to where we lived. We mostly continued playing then up until the night fell upon us and we didn't like to go home and stop playing.
Were you interested in fine arts when you were a child?
Yes, I loved painting. I went to art school and always participated in making wall newspapers in secondary school. As times passed by, my eldest daughter went to the same art school, too.
When was the first time you felt proud of cooking a meal?
I learned cooking when I was a kid. But I started practical cooking on my own when I got married. Maybe it was only then that I understood the things I'd learned and the things I hadn't. I love to learn and willing try new recipes, and whenever something turns out well, I enjoy it.
What did you study in college?
I finished my studies in programming at the State University of Belarus and received my programming engineer certificate. After graduation, I continued programming almost my entire life, be it in state companies or private companies.
How did you meet your husband? Did you have a traditional marriage?
I met my husband when I was a student; we were classmates. Four years after we finished school, when I was in the last year of my college and while my husband was being sent on a mission to Afghanistan as an interpreter, we got married. We celebrated our marriage for three nights; one and a half days with my relatives and one and a half other with my husband's.
What are the traditions during a wedding night in Belarus?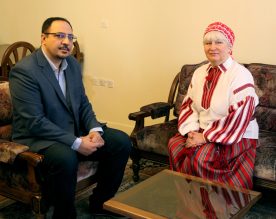 The wedding process could be divided into three stages: proposal and engagement, the wedding ceremony and the honeymoon.
Proposal and engagement include going to the bride's parents and seek their approval.
Before the main ceremony, the young boys and girls who are invited to the event should design the car so both the bride and the groom could go to the notary to register their betrothal and marriage. But before that, the groom should buy his future bride from her friends and relatives; however, the tradition and rate of buying the bride is nothing but ceremonial and symbolic. During this process, the groom faces different riddles and matters which helps them figure how ready he is for the married lifestyle; for example, they want to know how much he knows about housekeeping; whether he knows how to change a diaper, bargain, and so on. This is an emotional, entertaining course. When the bargaining and buying the bride are over, they leave the bride to the groom and everybody goes to the notary, and after registration, people go to the church to celebrate the religious manners and engagement. After the marriage is registered, the couple would go to the hall where the ceremony is being held, and both their parents welcome them with bread and salt.
When the wedding is over, the newlywed go on their honeymoon. For instance, my husband and I went to the Black Sea on our honeymoon.
Do families provide dowry for the bride in Belarus?
There was something like that in our country in the past and that's why, they'd prepare the brides' appliances in advance; the bride's parents would sew mattresses and bed sheets and purchase home and kitchen appliances for the future family. But nowadays, things have changed a lot and so has the people's approach toward the traditions.
How effective has your husband's political career been on raising your children?
Not so much. When my husband began his political service, our children were old enough.
You and Mr. Ambassador have been to different countries. Which mission did appeal to you the most?
It wasn't quite like that. My husband was on missions to the UN and OCSE for years which were non- family missions. As a result, we were mostly waiting for him at home.
When was your first child born? Is there any specific ritual for when a baby is born?
Our eldest daughter is named Kseniya and is 34 years old. Our son, Anton is 25 years old. Perhaps like every other place, girls are gifted in pink and boys in blue. And some time from the moment the baby's born, they baptize him at a church and their close relatives and friends are invited.
Please tell us a brief overview about the national and religious events that are generally celebrated in Belarus.
Of the national events celebrated in Belarus, there are some international ones such as January 1, the New Year; March 8, the International Women's Day; May 1, the International Labors' Day; and some occasions left to us from the Soviet era like February 23, the Day of Fatherland Defenders; May 9, the Victory Day; June 3, the Independent Day of Belarus; and November 7, the Anniversary of the October Revolution. Given the fact that in Belarus, two schools of Christianity are officially recognized on the state level, both Catholic and Orthodox ceremonies are celebrated. Therefore we celebrate the birthday of Christ twice, once on January 7 and once on December 25; Easter and Radonista. On Easter, we color eggs, bake a special cookie named Koulich (Easter Cake) and sweet cheese paste. On Radonista, there's a tradition to pay tribute to the dead and clean their tombstones.
Given your sociable spirit, how successful have you been in interacting with the Iranian people?
I learn the rich Iranian history and culture with all my heart. First, I take part in cultural events like Nowrooz, Yalda Night, Last Wednesday of the Year, and then, I enthusiastically go on touristic visits all over the country; thus far, I have been to Ahvaz, Shiraz, Yazd, Esfahan and Kashan. Of course, I understand there's still a long way from seeing all of Iran, and if I get a chance, I'll certainly look for new travelling experiences.
In your opinion, which Iranian dish is closer in taste to the Belarus cuisine?
I could say dairies, bread and sweets, lamb kebab and foods with rice on the side.
Which Iranian food do you cook well?
I think when it comes to traditional foods, only those who have been raised with them, can cook them the best. In our country, men often make kebab and lamb meat; but I'd say my vegetable rice and fried vegetable kookoo (round mixes of vegetable fried in a pan) are actually nice.
How different are Belarusian and Iranian cuisines?
Foods and ingredients in Belarus, just like every other country, are affected by the climate and cultural aspects. Due to the geographical position of Belarus, our local meals have been under the influence of various cultures, like Orthodox in the east, Catholic in the West, Baltic in the north and Muslim in the south.
It's quite natural for the Belarusians to eat potato instead of rice. We use as much potato in Belarus as Iranians eat bread here. In fact, our potato acts like bread for us. That exactly why most of the national and traditional meals in Belarus are made of potato in various forms. First come the foods made of potato such as draniki, kliotski, kaldoony, zapekanka, babki, dracheni, fried potato with meat, mushrooms, etc. The environmental circumstances in Belarus have led us to use mushrooms, wild berries, fish and different vegetables in Belarusian dishes.
But time is changing anyways and so will the habits and tastes. That is why it's no surprise if a Belarusian prefers Mediterranean, Japanese, Italian, German, French or Iranian cuisines.