In July, 2017, Tim Tanıtım Tehran LLC was opened after a speech by Turkey's Minister of Economy, Nihat Zeybekci, and Iran's Vice Minister of Industry, Khosrow Taj hosting a large number of the two countries' businessmen in Tehran. During the ceremony, Minister Zeybekci stressed, "We are not just looking for investments in and exports to Iran, but we also plan to cooperate with Iranian businessmen and import raw materials and Iranian goods to Turkey." To learn more about the effects of the establishment of this center on the economic ties between Iran and Turkey, we conducted an interview with the center's manager in Tehran which you may find as follows.
AVA Diplomatic's Exclusive Interview with Mr. Mehmet Ali ERKAN,
Country Manager at Tim Tanıtım Tehran LLC
Interview by Mohammadreza Nazari 
 In what countries does Turkey have commercial offices and what is their agenda?
Commercial Offices are government bodies and are not part of our company. What our mother company does is different than commercial offices. Our company establishes Trade Centers around the World. Sofar we have opened in 5 different cities and will open 6 new ones in the near future and more after them. The idea is to establish safe and trustworthy environment and a platform for meetings for businessmen.
What is the top priority on the agenda of the Turkish commercial office in Tehran?
For the Commercial Office's priorities you need to ask to the related section at the Turkish Embassy. However our company's top priority is to establish a platform for cooperation and seek for safe and sound business environment between Iran and Turkey. Increased cooperation results in increase in wealth of both countries. We are trying to bring both countries' businessmen together to discover cooperation areas and business opportunities.
What legal procedures have been gone through to open the commercial office in Tehran?
This is a pure private company. We are established two years ago as any other company and registered according to Iranian commercial law. We are not a commercial office. I believe you are mixing that. We applied  to the necesssary registry offices, tax offices etc. via our lawyer and accounting consultants.
Is this center merely aiming at doing marketing for Turkish goods?
Main idea is marketing Turkish products, because we are owned by the Turkish Exporters' Assembly that has 72.000 exporters as members. However, we are also finding mutual cooperation areas. Right now we are following a project where the Istanbul Moda Academy will cooperate with ITEMA (Iran Textile Exporters and Manufacturers Association) to educate Iranian Designers. Also we are in contact with Turkish Textile Machinery Exporters to organize a workshop and B2B activity for Iranian Textile producers to train their workers for proper usage of their machineries.
What importance does Iran have in the new Turkish marketing?
Iran is not new for Turkey. Iran is our neighbour and we always have had close relations. During our history we have always stood side by side. So we did not discover Iran newly neither did Iran discover Turkey newly. Geographically we are bound to eachother. Therefore both countries are important to each other. We have to respect and work with eachother. There is no country that can enhance its development without having commercial and economic relations with its neighbouring countries. We pay special attention to our neighbour. We believe that we have to increase our trade mutually and cooperate beyond trade.
How facilitative can this center be to bring Turkish goods to Iran?
Bringing goods to Iran is not among our services and authority. The goods can be brought only by importers and we are not one of them. We are not a center that is concerned with importing goods. Our scope of business does not cover importing goods for our members. We can assist Turkish exporters with Iranian regulations so they can be aware of the market conditions before they export their products.
The Center cannot sell anything. The Center is not a shopping mall. We have some companies displaying their product samples. None of our members are allowed to do any sales activities in our Center. The Center is being used to meet with Iranian counterparts. It can be evaluated as long-term exhibition area.
Are Turkish companies who intend to have a place at the commercial center provided with assistance in terms of their storage and exhibition participations?
Right now we do not have any storage area. We only have showrooms which displays samples of the companies' product lines.
Are Turkish goods priced in USD?
If you mean in our Center, we do not price anything. How our participant companies price their goods in their negotiations with their counterparts are not known by us. This is a business secret they would not share with us. However, in general Turkish products can be priced as USD or Euro in different parts of the World. In Iran they cannot price it in USD since it is not allowed to do contracts in USD. The price of a good in the international trade is determined by the general practices depending on the region or products.
What supervision do you have on the presence and offering of Turkish brands in Iran?
We do not have any supervission for Turkish companies. We only advise them about the market conditions if they contact us. Mostly the companies get some information from the Commercial Counsellor of the Turkish Embassy. However, they would like to get some private sector view to the market as well. In that case they contact us and receive detailed informaton about the market.
Have Turkish brands boosted their production inside Iran?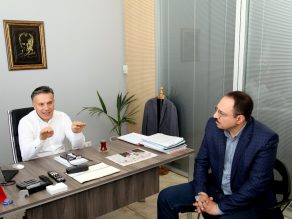 Not at all. They would like to do that and create jobs at the same time but due to certain obstacles they cannot do it as they were supposed to. The protectionism in the Iranian Market has increased and protectionism is the main obstacle in front of the development of a country, investment and mutual beneficial commercial relations. There are no country in the World that benefitted from protectionism. However, the liberalization paved the way for development of a country. There are many ways to develop industry in a country but prohibitting imports and banning competition is not one of them.
Does Iran have a similar commercial office in Turkey?
Iran has commercial offices at the Embassy in Ankara and Counsulate in Istanbul, but Iranian Trade Center has not been established yet. Eventhough we strongly recommend our Iranian counterparts, such as Chambers, for establishing one and promissing them to help for establishment, it has not been done yet. We hope in the very near future that Iranian private sector would establish one of its own Trade Center in Istanbul or other cities, so we can complete the chain of the commercial meeting platform for both countries.
What activities has the commercial center done to establish modern factories and industries as well as developing and strengthening productive firms?
I believe you are mixing our Center with Ministry of Industry, Mining and Trade. We are a private company providing a platform for businessmen for both countries to come together and establish business relationships. We cannot do more than that. We give advice to open plants, factories within Iran but more than that is not in the scope of our work. Your question needs to be answered by the government authorities.
What can the Turkish commercial center do in terms of tourism in Iran?
This does not fall under our scope of work. This is something that Iranian officials can answer. We are not a tourism office. However, tourism needs facilities and service orientation. Without one of them it is impossible to expect tourism to develop. Also, some decissions should not cover tourists or businessmen who visit Iran. Lately, people come and cannot change their currencies to IRR at their hotel or anywhere. Those practices give wrong signals to the potential tourists.
What measures does this center have in mind to avoid unofficial trade or smuggling?
Fighting illegal trade and smuggling is the job of the customs and security forces of a country. We are neither customs office nor security force of Iran, neither we have the authority to deal with that kind of issues. All around the world illegal trade can be done simply by the importers and with cooperating authorities of a country. We as Trade Center are not part of that system.
What potentials do Iran and Turkey have for enhancing economic relations? How can they supplement each other?
The potential of both countries is huge. In order to benefit from that potential the business should be liberalized and secured. Otherwise we cannot even talk about the potential. The economic environment of the both country shows the potential and complementary nature. Our countries can support eachother and in fact they are obliged to do it for the sake of their people. Any decission to harm both countries' cooperation has nothing but being irrespective to the needs of their people.
What horizon has been depicted for exports to Iran in the current year?
In the current year it is impossible to predict anything due to Trump's decissions and what others will do. Also current market situation in Iran is very unstable due to certain decissions taken by the authorities such as forbidding companies to change their profits into other currencies and transfer them to their originating countries. Normally there are many sectors that has potential but in the current situation it is very difficult to  mention them since many sectors are banned from import.
How large was the export balance in USD to Iran?
Between Turkey and Iran, Iran has a trade surplus. Right now Iran has exported to Turkey 3.4 billion USD, and imported from Turkey 1.1 billion USD in 5 months. There was a more balanced figure two years ago. However within last two years Iran took gradually some decissions that caused limitation in trade. Those decissions are taken with a protectionist policies. As mentioned before protectionist policies do not help for development, they scare the investors. We understand that Iran takes those decissions for development of its domestic industry. However we have tried it in Turkey and they did nothing but hurt our economy, because the lack of competition caused lazy industries. Once we liberalized the economy Turkish companies could compete all aroud the world and export technology and know how in certain sectors.
In what areas are joint investments foreseeable between the two countries?
I believe there are many areas for joint investment not only in Iran but also in Turkey. One of the area is energy sector, another area is construction of the infrastructure, also communication, shipyard, automotiv, various machineries etc. However all those depend on the business environment of the country. With all the protectionism that we are witnessing lately and also troubles that already-active companies are facing in the market would effect negatively decissions of the new investors.
How do you assess the performance of Iran's private sector in expanding economic ties between the two countries?
Iran's private sector can be very active if they want to. However, they do not like competition and long term cooperation. This is a main obstacle for enhancement. They need to understand that there are no gain without pain. And competition is very vital for improvement. If you avoid competition you become too reluctant to act to the changing environment and lose at the end.
How do you view banking transactions between the two countries? What steps should be taken to tackle banking challenges between Iran and Turkey?
This is a very difficult question to answer. I know that the Turkish banks are willing to cooperate with Iranian banks however they are bound with the international banking regulations. Due to US sanctions the banks are very much limited in their actions. Therefore, they have difficulty to be active in Iranian market. On the other hand, without active banking system there will never be an enhancement in the commercial and economic relations. Both countries need to solve that issue. How they can solve is another issue. One way would be to establish a bank that works only between two countries. Establishment of such bank is a decission to be taken by the highest authorities. Banks themselves cannot take this decission for the moment.