While the British Ambassador to Iran, Nicholas Hopton is interested in music and playing the guitar, his wife prefers to spend her time in the painting world. Mrs. Hopton believes her marriage to a diplomat has been fairly influential on their life as much as she views a diplomatic life as not particularly normal. Just as the traffic congestion in Tehran seems like a very serious issue, it is certain that living on Ferdowsi St. has been quite impactful on this family's life, and in spite of the foresaid, Mrs. Echenique-Hopton loves living in Southern Tehran. Below is our interview with the Wife of the British Ambassador to Tehran, which has received a number of revisions from the Embassy.
AVA Diplomatic's Exclusive Interview with
Alexandra Echenique-Hopton, Wife of the British Ambassador to Tehran
 First, when did your parents immigrate to the UK from Chile? Did they tell you any stories of their time there?
My parents left Chile in 1963 for professional reasons. My father, Marcial Echenique, went to study Architecture in Barcelona when he was twenty years old just after he had married my mother, Maria Louisa Holzmann, who was only eighteen and too beautiful to be left behind! In 1966 they moved to England as my father was offered work in Cambridge as an Assistant to Colin St John Wilson, a renowned architect (who was later knighted for his design of the British Library in London). He then became a researcher at the Centre of Architectural and Urban Studies in Cambridge and soon after received a lectureship at Cambridge University and soon my mother also started to work in computer software design. My two brothers were born while my parents were living in Barcelona, but I was born later in Cambridge. Although my mother has told me it was hard being so young and having children far away from their families, they clearly enjoyed their new life in England as they never returned to Chile!
Were you not interested in becoming familiar with your grandparents or other relatives/ancestors in your country of origin (Chile)?
Yes, I have always been interested in Chile. My parents took us back every couple of years which helped develop a strong connection with the country. In fact I love going back – it's an extraordinarily beautiful country. Our children also enjoy going and seeing all their relations, good friends and speaking Spanish. I hope they will have the same connection with Chile.
You were born in Cambridge. Did you spend your youth and adulthood there? What were your main activities and hobbies?
I was brought up and (mostly) educated in Cambridge. I went to a good day school there called St Mary's Convent run by some strict nuns, but then went for Sixth Form to a well known boarding school, Benenden, in Kent which was a wonderful and formative experience. Then I was accepted to study Economics at Magdalene College, Cambridge University, so I returned to Cambridge. Although studying was, and had to be, my main focus at university, I continued to do contemporary dance and music, which I had done a lot of at school, but also directed plays at the ADC theatre and rowed for my College's First Ladies Boat. It was an extremely busy but happy time in which I also made some great lifelong friends and met my future husband.
Why did you choose Economics as a major?
At Benenden School I was fortunate to have an inspirational Economics teacher called Mr Baylis. He was a brilliant teacher and taught me so much in two years. During this time I decided I wanted to study Economics at university. I found it a fascinating and useful subject because it is so relevant to everyday life. I also liked the fact that it is a social science – there is not one answer. One is constantly looking for answers. It also teaches you how to argue well. When I finished studying in 1991 I joined one of the big Accountancy firms in London, called Arthur Andersen, which took me on as one of their trainees. After two and a half years I decided that Accountancy was not for me and I moved into Advertising, which I found was a more creative industry suited to my interests. I enjoyed working for a couple of Advertising companies in London and then another in Rome, but my best memories are of my time at Saatchi & Saatchi Advertising, which was arguably the creative hub of the advertising world in London in the 1990s. I must admit leaving this exhilarating world when our third child, Gabriel, was born in 2002 was difficult.
After studying Economics, you made continuous effort pursuing painting classes. Do you wish you had majored in Art rather than Economics to begin with?
That's a good question! I would say that at the age of eighteen studying Art was not a serious consideration – due to my subject choices at school (which didn't include Art) I hadn't really done much Art at that stage. I developed my interest to draw and paint later as a young adult. I am glad I studied Economics at university as it gave me a good grounding to work in business, and I was able to develop my interest in painting on the side. In fact my husband has always encouraged me to do more painting, and have it as a parallel career. So while I was working in London I enrolled on evening classes at Campden School of Art and later at Heatherley's School of Fine Art where I did mainly life drawing, oil painting and portraiture.
When you were in Morocco, one of your paintings was printed on a UNICEF invitation. Were you always interested in charitable activities with UNICEF and other UN agencies?
Yes, that's right. "Casbah Street", a watercolour painting from my first exhibition in Rabat, was selected by UNICEF and printed as part of its greeting card collection. I was pleased at the time not only to have one of my paintings printed on a card and sold around the world but I was really pleased to help such a worthy charity which aims to help children in need. It's important to make time to help others when you can.
How much do you encourage your children to volunteer and do charity work?
Both my husband and I have encouraged our children to volunteer and help others less fortunate, when they can. At Christmas our children often play music or sing for elderly and disabled people in care homes. Last summer our nineteen year old daughter, Sophia, went to Sri Lanka for a month to help in an orphanage for disabled children. Our younger daughter, Angelica, volunteered for a week in Lourdes (France) helping disabled people get dressed, eat and go to mass. Here in Iran, Sophia has volunteered at the U.N.I.C which she enjoyed. At boarding school our younger boys are also encouraged to volunteer in their local community.
Whose style inspires your painting most?
My painting style is mostly figurative so it's very much what I see and love, and full of light and colour. I like many painters but I suppose my favourites are Cézanne, the French Impressionist painter, and the American painter, John Singer Sargent – both of which painted some beautiful and evocative landscapes. Sargent was also a leading portrait painter. I also admire the British painter David Hockney, the Chilean painter Claudio Bravo and the Polish painter Tamara de Lempicka. In different ways they have all inspired me.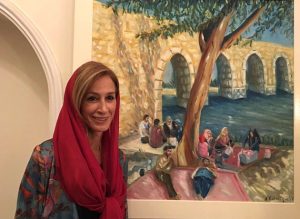 In which countries have you exhibited your art?
I have had, or been part of, a number of exhibitions –in Rabat, Morocco, a few in London, in Rome, two in Paris, and two recently in Tehran. Here I was involved in a group summer exhibition at the Mah Gallery, and one of my paintings is currently hanging in an exhibition at the Golestan Palace, on 'Picnic, Iranian style'. There are some remarkable miniaturist paintings on display in this exhibition. I would highly recommend going to visit this exhibition.
Which country has most inspired your work?
Everywhere we've been has inspired me. But I suppose Morocco was the beginning. It's a most exotic country with the most amazing light. Many artists, such as Matisse and Winston Churchill, have been inspired there. Churchill's watercolours of Marrakesh are beautiful and really worth seeing. Since Morocco, Italy, France, Qatar and now Iran have also provided me with plenty of inspiration. They are all beautiful countries in different ways.
When and how did you meet Ambassador Hopton? Did you have a traditional wedding?
We met in 1988 at Cambridge, while we were studying at Magdelene College. We only overlapped one year as when I started at Magdalene he was already in his final year. He soon joined the Foreign & Commonwealth Office, our Ministry of Foreign Affairs, while I stayed and continued my studies. When Nick was sent on his first diplomatic posting to Rabat I was just moving down to London to start at Arthur Andersen in London. We had a long distance relationship for almost 2 years and wrote letters to each other, as e-mail didn't exist. But love always finds a way and in 1993 we decided to get married. Our wedding service was at the Catholic Church in Cambridge and was followed by a wonderful party at my parents' country house just outside Cambridge. It was a very traditional English wedding with a marquee, speeches, lunch, and a jazz band to which we danced.
Has your being married to a diplomat been influential professionally and artistically?
Being married to a diplomat has definitely influenced me both professionally and artistically. Diplomatic life has taken us to a variety of destinations which has meant a fair amount of instability but at the same time it has taught me to be flexible, take up opportunities and learn to deal with different people and different languages whilst also providing abundant sources of inspiration and interesting people. For example, during our first posting to Morocco I took up a temporary position as Assistant Director of the British Council which took me to the European Commission in Brussels, I set up my own card business using my paintings as images, and in my free time used to paint with Lady (Pauline) Ramsay, a gifted oil painter as well as the beautiful wife of the British Ambassador to Rabat. In Italy I worked as a Planning Director of Leagas Delaney, a leading international communications creative agency, whilst juggling having two, and eventually three, very young children. In France I enjoyed having two more babies, meeting other French mothers for weekly French conversation and joining Catherine De Bretagne's class in Paris to learn some new painting techniques. In Doha I learnt how to run an Ambassador's residence like a five star hotel with ministers and members of the British Royal Family regularly coming through. In Tehran I have learnt about painting conservation and interior design in order to restore our Residence, which was severely damaged in 2011 when the compound was stormed; I have also learnt some Farsi and set up an English language training programme for our local staff, many of which I teach myself. I hope I have also been supportive to my husband over the course of his diplomatic career and helped represent the United Kingdom at diplomatic and commercial events, sometimes alone when my husband has had clashing events. So overall diplomatic life has made a conventional career difficult but it has encouraged me to be flexible, take up opportunities and develop portable skills like learning to deal with different people and languages and also oil painting – skills that I have been able to take with me wherever I go unlike a normal job or even our wonderful children!
How much has your husband's diplomatic work affected the raising of your children?
As I mentioned Diplomatic work has meant that we have moved around a lot, on average every 2-3 years, but I think our five children have really enjoyed and benefitted from all these wonderful countries and cultures. However, from the age of nine for the boys and age of eleven for the girls, we decided to send them to a boarding school back in England. This way they would have more stability to make long-term friendships and follow the British examination system to later get in to British universities. For our children boarding school has been a good decision, even though it's very difficult for us parents to be away from them. I have to be well organized to manage each child's demands but remote parenting is not always easy! The children though, have enjoyed boarding school and haven't had time to think much about us because they are so busy with studying, music, sports or drama. We look forward to the next holiday when we will be altogether again!
How many children do you have?
Two girls—19 and 17 and three boys—15, 13 and 11. They are really wonderful. We feel very lucky.
Your boys are interested in football and I hear they went to watch Persepolis. Was it interesting for them?
My three boys love football and rugby. They went to a Persepolis training session and to watch Iran play China in the World Cup qualifying match. They also sometimes play football at the Embassy with much bigger men than them!
 Given your sociable nature, have you had a lot of interaction with Iranians?
I've met many Iranians and I find them very friendly, easy going, and open. I also find them highly educated and interesting to talk to.
When you meet Iranians, do you tell them you are the British Ambassador's wife?
I don't always because obviously people treat you differently if you say that. But sometimes it's unavoidable! As the British Ambassador's wife I am invited to things that make living here very interesting. For example I was invited to chair the Professional Women's Group or PWG, as this group has traditionally been chaired by a wife of a British Ambassador. From this group I have met some extraordinary Iranian female professionals such as theatre/film directors, architects, social workers, doctors, and lawyers.
Did you attend when Ambassador Hopton presented his credentials to President Rouhani?
No, I wasn't there, but I have met the Foreign Minister's wife, Madame Zarif a number of times. I have attended her interesting talks and participated in Diplomatic Ladies Group (DLG) charity events too. She's a very nice and impressive woman.
You have visited Yavari-e-Sabz, a local charity. Is it possible for UK and Iranian charities to collaborate more?
International Red Cross are here, and they are getting more involved in Iran. As an Embassy, we have been quite involved in a couple of charities here supporting them whenever we can. We donate funds or clothes and other items to a few select charities.
Other than Yavari-e-Sabz, have you been involved in other charities?
It's the main one we have been supported which helps children of refugees or orphans. The children sang at our National Day. But we also support the PWG charity and the DLG's charities.
Which Iranian dishes do you think British people like best?
Chelo Kebab is delicious. We also really like the way you do the rice with saffron. Saffron for us is a real delicacy as it's not easy to get in England. I love the way you fry the rice with saffron, so it's hard and crunchy.
What kind of Iranian dishes do you like?
I think my favourite is Kashk e Bedemjan (aubergine dip). Iranian food is delicious and we've enjoyed trying many dishes.
Which cities have you traveled to?
First, we went to the obvious places—Shiraz, Persepolis, Kashan and Isfahan. I loved Shiraz and enjoyed seeing Persepolis and the tombs – so full of history. Kashan and Isfahan are beautiful too, but the place that really surprised me was Yazd. It's one of the oldest cities on the planet and the view of Yazd's wind catchers from above is quite spectacular. More recently we went to the Golestan region, Rasht and Tabriz which were quite long trips but very worthwhile. The landscape was very different – very green. I didn't realize how vast and fascinating this country is.
How do Tehranis react to you as a British person when you are out and about in the city?
Most Tehranis and people outside the city have been very friendly towards us. People often approach us to practice their English and take a selfie!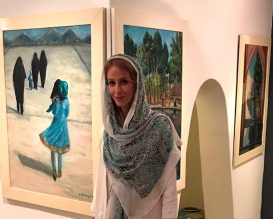 When one of your friends or relatives comes here, where is the first place you take them? Which part of Tehran?
I like taking guests to cafes because I think they give you a feeling of the Iranian culture. I also enjoy taking them to art gallery exhibition openings—not just to see the art work but also to see the latest fashions in women's manteaus and hijabs! They can be very stylish. I also like taking friends to the Golestan Palace with its fascinating Qajar architecture and the bazaar which is so big and noisy, but colourful to see.
Different parts of Tehran are not in the same socio-economic status—what is your opinion on the various parts of the city?
Yes there is a lot of difference between the north and south of the city. We have really enjoyed the fact that we live in the Residence at our Ferdowsi compound, in South Tehran, as it is so close to a lot of historical places that I have mentioned already, such as the Golestan Palace. The history of our Residence is also fascinating—Churchill, Roosevelt, and Stalin met here in 1943 during the Tehran conference and celebrated Churchill's 69th birthday in our dining room. Despite the fact that we enjoy living in South Tehran, there is clearly a lot happening in North Tehran and we have to travel up there often – sometimes to our other compound in Gulhak and sometimes to events held in other diplomatic missions based up north. However I've also noticed recently that some businesses, such as art galleries and cafes, are moving back down south.
In your view, how can Iranian and British people interact more?
They could interact more by holding cultural events. I hope that in time we'll be able to do more cultural exchanges. In Qatar we worked hard on the cultural exchange and had a number of musical, theatre and fashion events. Bringing Iranian culture to London would be wonderful. I know there's so much to share in both directions. We are also working hard to increase our business presence in Iran. I think that will happen with time and we are very positive about it.