South Africa enjoys the most advanced, varigated, richest agricultural economy all across Africa. Its modern, cutting-edge industries have also enabled the country to produce about 60% of the continent's metals and be enlisted among the world's top ten exporters of raw metals. In terms of banking and banking services, South Africa has been able to advance shoulder-to-shoulder with the bests, for it houses a large number of foreign and local banks within the country and provides the necessary services in the fields of investment, insurance, loans and so on. This is, however, contrastive as over the last decade, the country's trades with Iran have been seriously hit by the absence of banking ties and various sanctions against Iran. To gain a richer understanding of the political and economic relations between Iran and South Africa, we carried out an interview with South Africa's Ambassador to Tehran which you is as follows.
AVA Diplomatic's Exclusive Interview with
William Max Philman Whitehead, South Africa's Ambassador to Iran
In the past year, which Iranian provinces did you visited? What was the achievement of these provincial visits?
Qazvin, Kerman, Lorestan, Shiraz, Khuzestan and Fars. We really got to know what exists in those provinces as potential cooperation areas and then we were able to understand, for instance, your honey industry for which there is a demand in South Africa, then also we managed to see some of your shipping capacity. We were able to see potential areas of cooperation over all range of issues in terms of creation of partnerships between Iranian companies and South African companies. We were also able to see the issue of investment opportunists in Iran, also to visit business-people who would be interested in investment in South Africa. So they have been quite productive in terms of promoting cooperation.
Did those consultations evolve into practical phase or remained at negotiations level?
Some of them are beginning to bear fruit. We are seeing companies involved in the process of negotiations as agreement between various companies have not been reached yet because it takes a lot of time. So I would say that agreements would be signed within the next 6 months definitely between a numbers of these companies. In the area of infrastructure or food products, there would be signed agreements.
Have there been any negotiations or agreements between the two countries regarding automobile industry?
There were negotiations in automobile industry in particular for instance in the automotive spare parts. It is the field we are looking at but currently there is no agreement. But we look at that because in particular South Africa is very good at automotive parts and components. It's been negotiated with a number of companies to set up in some provinces.
Currently a model of armed car in South Africa is being produced. In South Africa, I noticed that this vehicle is used to transfer money by banks. There has been any negotiations regarding production of this model in Iran?
We use this vehicle for transportation of money. There has been expression of interest on the part of Iranian companies to have such a service, to purchase such vehicle but so far there has not been any purchase that has actually been done, but I have met companies that specifically wanted that. They are very good quality vehicles in terms of security.
The infrastructure of trade exchange between the two countries is banking ties. What has been done or negotiated in this regard?
We are working to find a solution to the banking issue, the issue of setting up a joint bank between South Africa and Iran for the purpose of facilitating trade. We have as yet not come to a final agreement. There is consensus on both sides. In order to insure that there is much more trade between the two countries, we would have to establish a banking mechanism which specifically looks to the possibility of the bank acting as a transaction advisor to facilitate trade between the two countries. Because otherwise the other institutions are scared of the issues of sanctions, even those sanctions have been removed but they are hesitant and slow all over the world, especially in the Western countries that they are scared to establish correspondent relationships. But this is a commitment on the part of the governments that this should happen and we think that the best we can do is to essentially establish a bank which specializes between two countries. So there is a consensus and it is a project in progress.
There is any perspective for its implementation?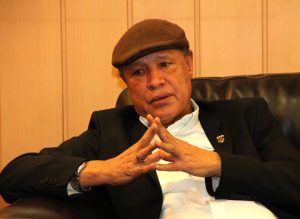 I wouldn't be able to give you timeline because I am not the one that is doing it.
Regarding the potential that you referred to as for joint Iran and South Africa Bank, does it have the capability to link Iran to other African banks?
Certainly yes, we are interconnected with African banking system. The initiative and key thing would be to have links between the two countries and from there, they will grow. Banks have a tendency to grow. So we will hope that would be the case.
Promotion of trade between two countries requires transportation. At what level is establishment of direct flights between the two countries?
We negotiated the issue of direct flights between two countries. A delegation from the Department of Transportation visited here 2 months ago and one of the issues to discuss was the issue of a direct flight between Iran and South Africa. And I think that will follow in place because obviously the airlines have also got the tendency and they would want to know if it is viable or not but there is a decision to the effect that we will open the direct flights. Direct flights will in a sense improve trade because you don't have to go to Dubai or somewhere else to fly to South African. That is going to really help in terms of tourism and also in terms of business because you took a flight in the morning and seven hours later you are in Tehran.
So which South African cities are the destination of these direct flights? Which agency is responsible for that? How much does it take for implementing this idea?
I don't want to announce the name of agency, all I can say is that the flights in the first instance would be between Tehran and Johannesburg, the economic centers of two countries. In terms of the growing needs probably it would develop to areas like Cape Town as an example. A lot of Iranians visit Cape Town. We've seen an increase just this year. We anticipate that the number of Iranians who come to South Africa by Nowrooz is minimum seven thousands but what we have noticed is a change of patterns after removing sanctions. In November for instance we received four thousand visa applications. So we think it would definitely increase. Probably the flights would be cheaper because you don't have to go other routes and it will also make it easier for South African people to come directly to Tehran. So we are looking forward to it in the next year certainly.
Train wagons are not in a good condition in Cape Town, while high-quality wagons are being manufactured in Iran. Isn't there any plan for cooperating with and purchasing wagons from Iran?
South Africa has railroad infrastructure. We manufacture our own railroads and sell it as well. We are looking at cooperation. We're also looking to enter the Iranian market but we have a normal plan for renewal of goods as well as passenger wagons. So we're also looking at cooperating with Iran on specific emphasis on this region where Iran is strategically located in relationship to Europe, Asia and some of the neighboring countries. We're looking at the potential for partnerships. We have about quite a number of producers, about eight ones that specialize in this field. So it's an area that I think we are self-sufficient. But we certainly would cooperate. Also old trains are in the process of renewal.
What are the potentials for cooperation regarding the health industry and medicine between the two countries?
We're working on a memorandum of understanding in terms of health. We actually expect our Minister to visit here very soon to collaborate in areas of research and development, also in areas such as HIV and in areas of pharmaceuticals, medical equipment or surgery tools and so forth. So these are what we are talking about. Currently we are in the process of working on the memorandum of understanding.
I think pharmaceutical companies in South Africa are private entities. Are there any plans to induce them to come here to negotiate in this area?
As I referred to pharmaceuticals, we are working on the basis of linking private pharmaceutical companies with Iranian companies. There is a potential and we can have cross-investment. Iranian companies three of which I met, were also very interested in opening up branches in South Africa and are looking for partnerships with South African pharmaceutical companies. So that is certainly ongoing.
Before imposition of sanctions against Iran, South Africa imported the majority of its crude oil from Iran. Do you have any plan to increase importing crude oil from Iran?
Certainly we will increase our import of Iranian crude oil, light crude in particular. There are a number of South African companies which have already sent the request to Iranian companies to purchase crude oil from Iran. As you correctly said the majority of our crude oil before sanctions came from Iran. So I don't think we would ever get back to that level, but we certainly will increase quite a lot. It is just a main problem right now to sort out the transport systems so far we don't have for instance cover ships. So these are some of the arrangements the private sector has to do. The only thing is that in South Africa, it is the private sector that purchases. State does have central energy fund but the purchase of that would be done by the refineries. And not all the refineries will buy, because some of them are linked to multinationals who are saying no to Iranian crude oil. But certainly a lot more crude oil would be purchased than when sanctions have been removed.
Currently at the end of 2016, how much is the amount of imported crude oil from Iran?
The last figures I checked, it was more petrochemicals than crude oil. It does not seem that in the course of 2016 there are any major purchases that are made of Iranian crude. But I expect that to happen. But petrochemicals certainly quite a lot has been purchased in the course of this year and South Africa is a growing market for Iran for things like bitumen. I think it will also be a big market for cement in South Africa. But of course we are saying we can't be buying from you all the time, you have to buy from us as well. Like we would want to sell red meet which is best quality meat and so forth. Because both President Rouhani and our President stressed on the issue of increasing trade in no-oil sector.
You referred to non-oil trade. We observed establishment of South Africa Iran Trade Desk (SAIRTD) in Cape Town. What objective is it established to serve?
It is a private initiative. We are not involved in it. I had discussions with them. That is a different process. We are still establishing South Africa-Iran business council. The government initiative is the creation of South Africa-Iran business council; something that we are working on. That's an initiative of individual business and not officially recognized by the government of Iran and the government of South Africa.
How practical are the potentials of cooperation between the universities of the two countries?
The collaboration in the scientific fields is mostly through the departments of science and technology where for instance there is an ongoing program of joint research between the department of science and technology of Iran and department of science and technology of South Africa. And under each you have organized the Center for Scientific Research which is a South African issue and under it would also be courses at universities which also specialize in certain sectors but everything is pulled under that. Collaboration at the level of universities is usually a university to university agreement. We are inclined to let them collaborate. I visited quite a number of provinces where I thought there was a strong need for collaboration around traditional medicines, indigenous knowledge systems and because there are certain universities in South Africa which specialize in that. So we facilitate on the basis of requests of both sides. So there are some agreements that are ongoing. I think Stellenbosch University is one of them and UCT is another one. In the science and technology level, certainly it is up to the Department of Science and Technology and regarding that there is an agreement.
Do you have exact figures of students who currently study in South African Universities?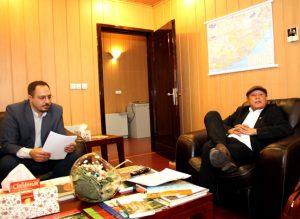 I don't but they are many.
Is the date of President Rouhani's visit to South Africa determined yet?
The time is not specified but it certainly would take place. It's a very important visit for us.
We saw a great deal of pressure imposed as to get Mr. Jacob to resign which was stopped in the end. Would you please explain a bit about the interior politics of South Africa?
That is how democracy works. We have a very open system. We have a very vigorous press. We are a society in transition and with transition many things would come. But I think the most important thing is the fact that the democratic system, the institutions of state, the extra parliamentary institutions such as human rights committee, the office of public prosecutor, and all these institutions defend issues of democracy. In our country nobody is above the law. These are the features of the democracy in which we live. And because we have a changing society, our dynamics enter the political train and because we are a growing democracy at the same time we're faced with challenges. Society is not a static thing. Society is always in the process of evolution. Organizations like the leading parties are also in the process of transformation. So this is the reality of when you have a system such as ours.
You imply that corruption charges against President is simply a propaganda.
The fact is that they happen in any society which is democratic. It is not the evidence, it is conviction. I cannot say yes or no, but I am simply saying it is conviction.
 Once a crisis happens and three members of the cabinet push the president to resign, it suggests that something significant has happened.
I am not able to comment on that, primarily because the meetings would take place and what the press is saying and the official statements are not the same.
Some media have expressed their concerns regarding the joint genetic experiments between South Africa and the US, for these tests may turn South Africa into a genetic lab. How do you view this?
Actually research is done by South African experts and we have some of the best experts in the medical field and we have laws that protect the rights of South Africans. We would never become the playground for genetic testing. This research is run under project management of South African professionals and experts. Necessarily also some are involved from the United States. But they're not the decision makers because the only decision that the US has made is decision to provide funding for this particular project. The result of this testing of the vaccine which started on December 8th, we will probably know in a period of three years. Right now, the only vaccine that was effective was one that was tested in Thailand and was only effective thirty percent. I hope it will at least arrive at fifty percent.
Why is South Africa after making an exit from the ICC? Please elaborate on this decision.
We've taken a decision and given notice to ICC to the effect that we will be withdrawing from it. The majority of those targeting seem to be Africans and we're seeing we do have an African court in Tanzania and we say that one needs to be empowered because you can't have a European solution to an African problem. And in this process we also say there are many people who have committed crimes against humanity including those that were bombing Iraq in the first Gulf War and many other areas in the world. There are certain members of the Security Council who themselves are not ICC members, but then say that you need to take us to the ICC and we should have the issue of the arrest warrant of Sudanese President, at an AU summit, it seems they are challenging our sovereignty. When a person comes into our country, we are expected to arrest that person and hand him over to the institutions. We don't have necessarily the justification for why is this person being brought to it and so forth. So on the basis of that we feel that we have given notice to the ICC to say we don't want to be part of you, unless you change the criteria of what the ICC is all about, that can't be used as a weapon against developing countries only.
Iran and South Africa have quite different backgrounds when it comes to the nuclear science. Is South Africa satisfied with putting away its military nuclear capabilities?
We denuclearized ourselves, even though we were not forced to denuclearize. We ourselves made an offer to the International Atomic Agency to say look we are stopping this program. That is our foreign policy of peace, co-existence and cooperation. And we're now focusing on the whole question of the development of the peaceful aspects of nuclear technology and energy. Nuclear energy is one of our mixes of energy. We want solar and nuclear energy. We are now undertaking a study in terms of building a nuclear energy center. Feasibility studies have been made to see how viable that would be and so forth. That is more or less areas that we're now focusing on. And we've always said in terms of Iran that every nation has a right to the peaceful use of nuclear energy. That's our position and we say Iran has a right. Iran has complied now with International Atomic Energy monitoring and it should be allowed to continue to develop its capacity because that would be in the interests of the Iranian people and the world at large. So there is a similarity in positions. I think current attempts to try to scuttle the nuclear deal are not in keeping with the P5+1 agreement. Some governments unilaterally say we don't want this agreement, whereas they were part of a group of countries that came to this decision. We think this is unfair on Iran. I think this is potentially punitive. We think it will obsess the region, it's not one resisting in terms of ensuring the promotion of development within the region, and just make the situation like there was not problems around the issue of Syria and Iraq. So our position is very clear.
Is it foreseeable for the JCPOA to be violated by Trump? What changes could come upon the relations between Iran and South Africa?
Firstly about trade relationships of Iran and SA, that wouldn't be effected by Trump administration straightforward. As far as the issue of nuclear agreement, I think Trump will soon realize that once he is in power the world is different. There is a difference between being a businessman and the political reality that faces the US because I think if they withdraw from the agreement, it will not only compromise them internationally, it will also compromise the US with its allies P5+1 none of whom have said that they want to cancel the agreement. I think initially Trump was saying I would cancel the agreement but it's very interesting recently he has been saying I would renegotiate the agreement. That was also imitated by the House Speaker. I believe that the agreement is irreversible.
We witnessed the presence of the 44th flotilla of the Iranian Navy in Durban. Please explain more about military relationships of two countries and what agreements have been inked in this regard?
There are no agreements. I think it is part of visiting the shores of South Africa. Navy exchanging shows, friendship and nothing more.
Who of among the South African officials has Gen. Hossein Dehghan met on his visit?
He met his counterpart the Defense Minister Nosiviwe Noluthando Mapisa-Nqakula.
A defense-military MOU was inked during Gen. Hossein Dehghan's visit between Iran and South Africa. What fields does this MOU cover?
The MOUs are standard MOUs between countries seeking to cooperate over a range of issues that involve the promotion of peace and security regionally and internationally.